Japan '10 Visit
Lacrosse the World
Whats New:
Crease Monkeys Visited Tokyo
February 12, 2014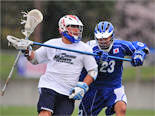 The Crease Monkeys visited Tokyo from February 12-18, 2014-- playing a series of games against the Japanese National Team. In addition, the Team conducted clinics.
Current News
Crease Monkeys Win the '12 Berlin (Germany) Lacrosse Tourney
June 16, 2012
In their first visit to the Berlin Tourney the Crease Monkeys vanquished all opponents to emerge victorious.
Other Events
Crease Monkeys win the '09 Hawai'i Invitational
November 1, 2009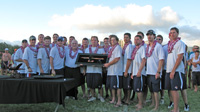 The Crease Monkeys won a hard fought championship game in what is certainly the best lacrosse tourney anywhere!
Japan '14 Roster
Crease Monkeys - Japan 2014 - Roster
Japan 2014 Roster
Crease Monkeys Japan 2014- Roster (2-12-14)

Attack
Team/University
#
John Christmas
LXM/Boston Cannons (MLL)/UVA
1
Jonathan Rodriguez
Hollywood LC/Salisbury
4
Corry Mabry
Hawai'i LC
29
Chris Clark
Barbary Coast LC
5
Midfield
Sam Bradman
LXM/Salisbury (National Division III Player of the Year & 2x NCAA Championships MVP)
12
Brian Christopher
Denver Outlaws (MLL)/Johns Hopkins
19
Pat Ryan
Lincoln Park LC/Clarkson
8
Adi Taylor
Barbary Coast LC
6
Malcom Chase
Boston Cannons (MLL)/Whittier
7
Uchino Masanori
Ragamuffins LC/Science University of Tokyo
3
Takayuki Yoshikawa
Samurai Lacrosse
9
Defense
Brett Schmidt
Charlotte Hounds (MLL)/Maryland
44
Brian Karalunas
NY Lizards (MLL)/Villanova ('14 Team USA Final 30)
25
Regis McDermott
NYAC LC/Hamilton Nationals (MLL)/Notre Dame
16
Matt Bernier
Denver Outlaws (MLL)/Penn State
20
Wataru Yamada

Stealears LC

2
Goalie
Drew Adams
NY Lizards (MLL)/Penn State (2x MLL Goalie of the Year) ('14 Team USA Final 30)
14
Jonathan Rodriguez
Hollywood LC/Salisbury (USILA DIII National Goalkeeper of the Year)
4
Harry Mazaheri, Jr.
Low & Away LC/St. Marys- Lake Forest
11
Zach Heffner- Verdict Photography- Team Videographer/Photographer

****

Click Here to Download a PDF Version of Our Roster