Japan '10 Visit
Lacrosse the World
Whats New:
Crease Monkeys Visited Tokyo
February 12, 2014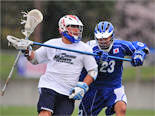 The Crease Monkeys visited Tokyo from February 12-18, 2014-- playing a series of games against the Japanese National Team. In addition, the Team conducted clinics.
Current News
Crease Monkeys Win the '12 Berlin (Germany) Lacrosse Tourney
June 16, 2012
In their first visit to the Berlin Tourney the Crease Monkeys vanquished all opponents to emerge victorious.
Other Events
Crease Monkeys win the '09 Hawai'i Invitational
November 1, 2009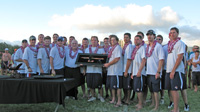 The Crease Monkeys won a hard fought championship game in what is certainly the best lacrosse tourney anywhere!
Japan '10 Roster
Crease Monkeys - Japan 2010 - Roster
Attack:
Matt Ward (UVa '06, Tewaaraton Trophy1 winner, MLL - Long Island Lizards')
Dan Holdridge (Le Moyne '05, MLL - Boston Cannons)
Blake Kim (UAlbany '92, Barbary Coast)
Cort Kim (UAlbany '92, Barbary Coast)
Jay Bloom (Cornell '09)
Midfield:
Chris Rotelli (UVa '04, Tewaaraton Trophy1 winner, USILA Division 1 Midfielder of the year, MLL – Chicago Machine)
Mark Bundra (Providence '07, MLL – Chicago Machine)
Justin Smith (Salisbury '05, 1st Team AA (NCAA DIII Tourney MVP), MLL – Barrage)
Chris Turner (Salisbury '00, NCAA DIII Player of the Year)
John Robinson (Princeton '04)
Masanori Uchino (Science University of Tokyo)
Faceoff:
Chris Eck (Colgate '08, MLL – Boston Cannons)
LSM:
Doug Appleton (Brown '86, Barbary Coast)
Defense:
Michael Evans (JHU '09, W.C. Schmeisser Award winner, MLL – Washington Bayhawks)
Matt Bontaites (Syracuse '03, MLL - LA Riptide, NLL - San Jose Stealth)
Charlie Wiggins (JHU '09)
Goalie:
Aaron Fenton (Duke, 1st Team AA)
1The Tewaaraton Trophy is an award given to the top American college lacrosse player, since 2001. It is the equivalent of the Heisman Trophy in football. This pre-eminent lacrosse award is presented by the "University Club of Washington, D.C." There are awards given to the top male lacrosse and female lacrosse players.
Games Schedule
Saturday, April 3rd:
<![if !supportLists]> · <![endif]>11:30 - 12:15 Face Off Session (*)
<![if !supportLists]> · <![endif]>13:00 vs. Japan National Team (20mins x 2)
<![if !supportLists]> · <![endif]>14:00 vs Hitotsubashi Univ. (20mins Half)
(National Collegiate Champion 2009)
15:00 vs Keio Univ. (20mins Half)
(The 3rd place, Eastern Collegiate League 2009)
<![if !supportLists]> · <![endif]>(*Face Off Clinic/Session for some players of Japan National Team)
Sunday, April 4th:
<![if !supportLists]> · <![endif]> 14:00 vs. Japan National Team (20mins x 4)
<![if !supportLists]> · <![endif]> 16:00 - 17:30 Clinic for Collegiate Players (**)
<![if !supportLists]> · <![endif]> (18:00 Casual Party near the field)
<![if !supportLists]> · <![endif]> (**Mainly Shooting, 4 on 3, 3 on 2, and for Goalie)