Monkeys invade Deepest Darkest Jungles of Chi-Town

Wait Until '99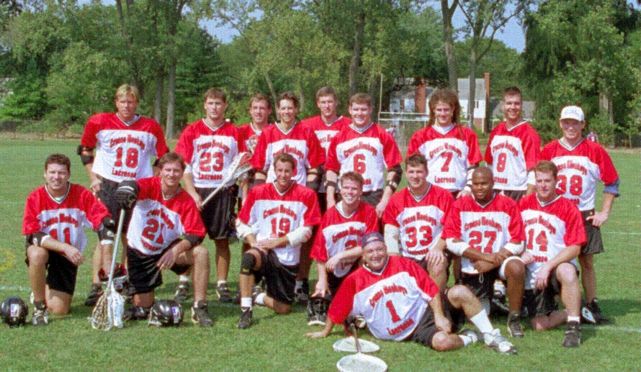 Tournament Highlights:
Jake's 1st hit, 30 sec. into G-1- as the guy is carried off the field he tells him to 'Lift Weights'
Ogie's 60 second miracle heralds his instant elevation to Monkey deity status
The expression on Finn's face as he leads a depleted group back to the hotel at 4AM
Tom Ryan & Adam Mueller form a scoring duo
Billy Hunter valiantly defends against an onslaught of Southern Empire players in the semi's
Dan Hinkle & Mike Ryan with injured hands/wrists- what would Jake say--> 'Drink Milk'
After a heartbreaking loss in the semi's the Monkey's rallied for a win to take 3rd place
Wrigley Field as Sosa battled McGuire for the home run record
Visiting nearly every bar in Chi-Town
Taz driving the van with the parking brake on as smoke billows out the back....
Frank, Gary, Ted, Doug, Finn & Sean using the hot tub for more than relaxing?!
Who was that Chinese guy????
This page was last updated on 08/11/08



What's New Monkeys Win the '07 Hawai'i Lacrosse Invitational- Winning the Master's & Men's Elite Championships (10/28/07) Monkeys- Northwest Win the '07 PNLA Championship (6/2/07) Monkeys Sweep the '06 Hawai'i Lacrosse Invitational- Winning the Women's, Master's & Men's Elite Championships (10/29/06) Monkeys- Harford Win the '06 ALL Championship (6/17/06) Monkeys- Northwest Win the '06 PNLA Championship (6/12/06)

Grand Masters

Win

the the '06 Florida Lacrosse Classic Tournament

(1/20/06) Crease Monkeys Men's Master's Team Wins the '05 Hawai'i Invitational Monkeys- Northwest Win the '05 PNLA Championship (6/16/05)

Grand Masters

Win

the the '05 Florida Lacrosse Classic Tournament

(1/24/05) Crease Monkeys Men's Elite Team Wins the '04 Hawai'i Invitational *Monkeys Women Win the '04 Lake Placid Tourney (8/16/04) **Monkeys Women Win the '04 Big Apple Shootout (6/20/04) ***Monkeys- Northwest Win the '04 PNLA-B Championship (6/14/04) ****Monkeys Women Win the '04 Mardi Gras Tourney (2/15/04)

*****Monkeys-

Grand Masters

Win

the the '04 Florida Lacrosse Classic Tournament

(1/18/04) ******Monkeys Win both the Men's Elite & Master's Titles at the '03 Hawai'i Invitational Tournament (11/4/03) *******Monkeys Win the Inaugural e-Lacrosse Amsterdam Tournament (8/26/03) What's Hot
Crease Monkeys Featured in Jan/Feb. '02 Lacrosse Mag. (US) & Dec. '01 Lacrosse Talk Mag. (UK) What's Cool
CreaseMonkeys.com Called 'WORLD'S BEST CLUB WEB SITE' by Lacrosse Talk Mag. (UK)
Favorite Links