Pimpin Ain't Easy

New Friends!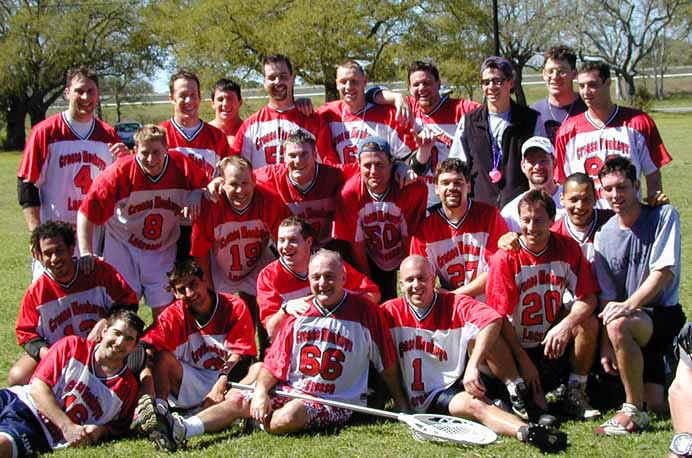 Tournament Highlights:
| | |
| --- | --- |
| | A great group of guys from all over the country getting together to play lax, party & hang out on Bourbon St.- an event to hopefully be repeated many times in the future! |
| | The cool t-shirts courtesy of Griff & Hamilton- Pimpin Ain't Easy! (Many women offered many things for one!) |
| | Mark Bissell winning about 90% of the face-off's |
| | Out shooting every opponent at least 4-1 |
| | Showing character by winning the first two games by four goals, all with comebacks (losing by three goals at the half), only to lose a heartbreaker to Budweiser- NEXT YEAR WILL BE DIFFERENT! |
| | Watching Hoch work his men |
| | Hamilton leading the defense, with Stas', Chris, Doug, Anthony & Lawrence playing key roles (Durwood going down early was missed!)- can't forget Mike in the goal making save after save |
| | A great attack- Big John with his cannon shot, Lopes with some great moves, Griff leading the charge, with Taz & Howard helping out |
| | Midfield hustle- with Erik, Matt, Mark B. & Mark A., Hugo, Adi, Rippy, Gary, Scott & Weber |
| | And... |
| | My warning to Moby as I left to go to the airport on Thursday- 'Be careful when you hang out with Taz'- a few hours later he's puking in the street- as he says now 'Taz is a very evil man' |
Thanks to all for making this a trip to be remembered for years!
This page was last updated on 02/19/07



What's New Monkeys Sweep the '06 Hawai'i Lacrosse Invitational- Winning the Women's, Master's & Men's Elite Championships (10/29/06) Monkeys- Harford Win the '06 ALL Championship (6/17/06) Monkeys- Northwest Win the '06 PNLA Championship (6/12/06)

Grand Masters Win

the the '06 Florida Lacrosse Classic Tournament

(1/20/06) Crease Monkeys Men's Master's Team Wins the '05 Hawai'i Invitational Monkeys- Northwest Win the '05 PNLA Championship (6/16/05)

Grand Masters Win

the the '05 Florida Lacrosse Classic Tournament

(1/24/05) Crease Monkeys Men's Elite Team Wins the '04 Hawai'i Invitational

*Monkeys Women Win the '04 Lake Placid Tourney

(8/16/04)

**Monkeys Women Win the '04

Big Apple Shootout (6/20/04) ***Monkeys- Northwest Win the '04 PNLA-B Championship (6/14/04)

****Monkeys Women Win the '04 Mardi Gras Tourney

(2/15/04)

*****Monkeys-

Grand Masters

Win

the the '04 Florida Lacrosse Classic Tournament

(1/18/04) ******Monkeys Win both the Men's Elite & Master's Titles at the '03 Hawai'i Invitational Tournament (11/4/03) *******Monkeys Win the Inaugural e-Lacrosse Amsterdam Tournament (8/26/03)

What's Hot




Crease Monkeys Overnight/Day Lacrosse Camp

What's Cool
CreaseMonkeys.com Called '

WORLD'S BEST CLUB WEB SITE'

by Lacrosse Talk Mag. (UK)


Favorite Links